TealInfo Plus
4.32
Lookup postal rates, area codes, tip tables, schedules, airports, and info from hundreds of free TealInfo databases. Create you own mini-apps; a handheld reference library.
Last update
20 Mar. 2006
Licence
Free to try |

$19.95
OS Support
Mobile
Downloads
Total: 267 | Last week: 0
Ranking
#34 in Databases
Publisher
Tealpoint Software
TealInfo Plus Publisher's Description
Information at your Fingertips: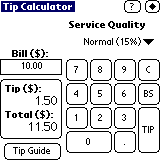 Info at your Fingertips
Lookup postal rates, area codes, tip tables, schedules, airports, and info from hundreds of free TealInfo databases. A system for creating and displaying interactive databases and mini-applications, TealInfo is a handheld reference library.
Included in the package are sample folios for a tip calculator, sales tax table, address book, check list, and a metric conversion reference. Free downloadable folios include postal calculators, sports statistics, ferry schedules, area code converters, airport statistics, computer references, medical billing codes, inspirational quotes, and hundreds more.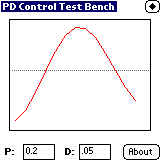 Feature Highlights
Hundreds of free reference folios include:
Postal/tip/sales calculators
Schedules
Statistics tables
Medical references
Area/phone code references
Address books
Checklists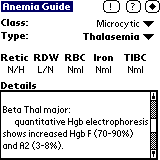 Create your Own Folios
With the included creation tools, you can also make your own reference folios. Why settle for a plain text document when you can create and view slick interactive folios complete with scrolling lists, tables, images, checkboxes, outlines, math calculation, and pop-up windows of information; all with no programming required.

Impress your boss with a custom company phone book or dazzle your sales team with a hand-held product catalog and price list. Or just browse the huge library of useful and entertaining downloadable folios available online.

- Five Stars

-
Winner, ZDNet PalmPilot Software Awards, 2000. Applications category. TealInfo is a fantastic system for storing and accessing different types of information.
ZD Net/PC Magazine Online
- Winner - Best Program or Utility for PDA's -
The Shareware Industry Awards were presented at the tenth annual Shareware Industry Conference, attended by shareware authors, press, and shareware enthusiasts from all over the world. TealInfo won the SIA People's Choice Awards as the Best Program or Utility for PDA's.
Shareware Industry Association

BONUS: A special for Handango, this enhanced bundle includes TealPoint VersionMaster for PalmOS. A $10 value, VersionMaster effortlessly tracks all your TealPoint applications, finding, downloading and installing new updates, when available.

A leading provider of software solutions for handheld devices, TealPoint Software currently offers 26+ productivity products for the PalmOS platform. Selections include TealDoc, the superior document reader, TealMovie, the award-winning multimedia player, TealAuto, the complete vehicle service and expense log, TealPhone, the replacement address book, and TealLock the definitive PalmOS security solution.


Take advantage of TealPoint's Free 30-Day Trial Policy on all products.
Look for Similar Items by Category
Feedback